After completing Bachelors Degrees in French Commercial Studies and Advertising, Marshall completed a Master of Arts in European Union Studies at the University of Illinois, Urbana-Champaign in May 2018.
Thesis
As part of the Masters requirements, Marshall wrote a defended his thesis entitled "A Comparison of the Impact of Far-Right Parties on the Effectiveness of Integration Between Wallonia and Quebec."
Preliminary Findings Presentation at EU Day [image]
Thesis Defense [image]
For more information, or if you would like to receive a copy of this thesis, please e-mail m.janevicius@gmail.com.
Courses
During the two-year program, Marshall took courses in a variety of subject-areas including:
Arabic (2-time FLAS Fellow)

2 Semesters of Elementary Standard Arabic
2 Semesters of Intermediate Standard Arabic

Educational Policy Studies

Education and Globalization
Globalization of Higher Education

European Union Studies

Dialogue on Europe
EU Institutions & Governance
The EU in a Global Context
Research Design & Technique
Immigration, Integration & the EU

French

History of the French Language
Language and Minorities in Europe
Contemporary France

German

Beginning German II
Intermediate German I
Experiential Learning
Washington, D.C. Trip (March 2017)
Marshall was selected as one of six students to attend a professional development trip to Washington, D.C.
The cohort met with their local representatives, governmental organizations, and multiple think tanks to discuss the impact of the UIUC EU Center.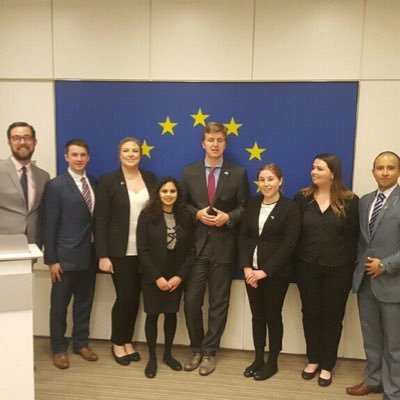 15th Annual EU Day (March 15, 2017)